Doggie Cakes
BabyCakes Cupcakes' Doggie Cakes are made with all natural ingredients, from scratch just like our Cupcakes. Fresh blueberries, bananas and applesauce make up our cupcakes, using honey as our only natural form of sweetener. We carry the mini and large doggie cupcakes in our shoppe daily and offer a 6′ inch double layer, round Doggie Cake with 24 hour notice, decorated to fit your celebration needs. Our treats are whole wheat based, so if your furry love has a wheat allergy or has special dietary needs, give us a call and we can work with you to create a healthy treat.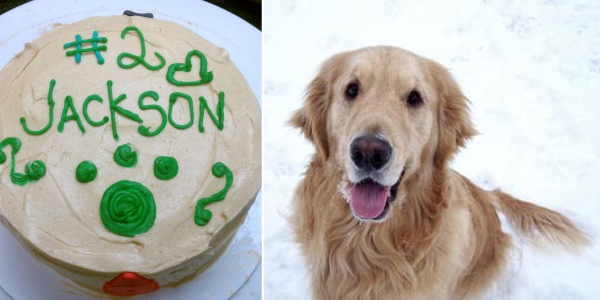 Bella Rose
Our oldest and reddest golden, was diagnosed with diabetes and lymphoma. She passed away in October 2008, but finding treats for her when she was ill was comparable to finding hidden treasure. We decided to make treats that she could enjoy; high fiber treats that still tasted great. I know that there are numerous pups with health concerns and with Bella Cakes you can be sure they are eating healthy, but they don't know it! It is our way of paying tribute to our very special girl.
Jack Snacks
Whole wheat flour, carob, bananas and molasses makes Jack's Carob Cupcakes tail wagging yummy!
Jack, the spokes-model, is our youngest and fairest golden, whose main purpose in life is to have extreme amounts of fun and give as much love as possible. Of course we had to find a treat as sweet as he is, so we created Jack Snacks. They are made with all-natural ingredients and a lot of Jack love!
Doggie Cakes: mini size $.50 each, large size $1.00 a piece, 6 inch double layer Dog Cake $25.00 with 24 hour notice